That time you were breastfeeding your newborn and your other leaking breast soaked through your shirt.
That time you were out with friends and you noticed people staring at your boobs only to realize you have leaked through your breast pads.
That time you were at work and had no change of clothes.
That time your baby slept longer than usual and you woke up in a wet spot.
What do all of these times have in common?
Wasted breastmilk.
You have grown life, birthed life and now you are sustaining life with your magnificent body. Life is literally flowing out of your nipples. Out of your nipples and right into your shirt or breast pads. This liquid gold that is tailor made just for your baby has no business being washed away in the laundry.
You might be thinking, "It's a small spot on my shirt, no big deal. It's not like I knocked over a whole bottle." Is there really that much breastmilk lost through leaking? You can't measure it now that it's lost in your shirt. But one mom started to wonder how much she would be able to add to her stash if she could stop wasting it and start collecting it.
Helen Anderson, RN, CLE noticed that during her shifts as a nurse that she was leaking often. How much was actually being lost in those breast pads?! She saw an opportunity to make her life a little bit easier. Because wasted breastmilk makes everyone sad. She invented the Milkies Milk Saver.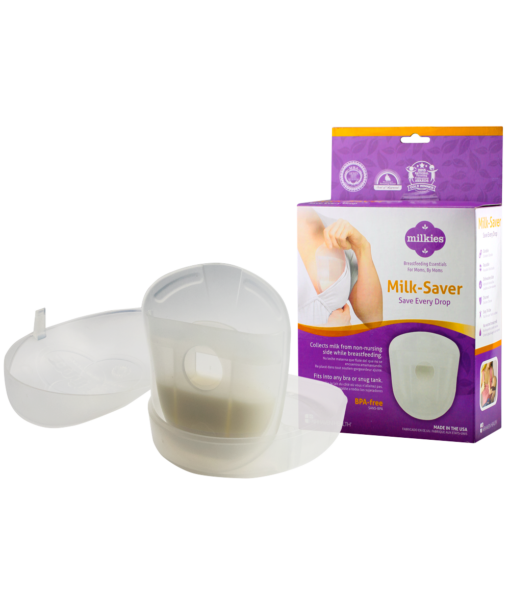 The Milkies Milk Saver is designed to be placed on the opposite breast while breastfeeding or pumping. You can simply slip it into your shirt or bra. There is a little hole where your nipple goes and the rest is soft and rounded for a perfect fit. When you are finished you can transfer the milk to your favorite storage container to be used later. People are constantly shocked at how much milk they are leaking. I'm talking ounces!
The Milkies Milk Saver fits a little more than 2 ounces of breastmilk in a comfortable and sleek design. It comes with a lid to prevent spills and a stylish portable case. The Milk-Saver has zero chemical leaching and contains no BPA or phthalates, and it's silicone-free. It's getting praise around the world from moms and professionals alike for a reason.
There is absolutely no reason to let good milk go to waste. This milk is simply leaking from your breast. You don't even have to work for it. Would you like to add a few more ounces to your stash? Actually, Helen, the creator of the Milk Saver saved 8-10 extra ounces in one day. No, it's not a typo. 8-10 ounces! I'm serious when I tell you it's more than it looks soaked in your shirt!
The Milk Saver is perfect for collecting milk while you are breastfeeding or pumping. But what about in between feedings or when you need to be away from your baby? That's where the Milkies Milk Saver On-The-Go comes in! This is a twist on the original Milk Saver (that we just decided that you need) that you can use on-the-go. These breast shells are designed to fit perfectly over your nipples, simply slip your nipples into the holes and protect your sore nipples at the same time!
The oblong design allows you to collect more milk than other collection products on the market. The easy-pour spout protects from dreaded spills and the contoured shape allows the breast shell to lay comfortably against your breast. You won't feel them or see them!
I can't tell you how many people I hear from that feel they can't keep up with their baby's needs. Sometimes a few tweaks to your pumping skills, checking in about overfeeding with your caregiver and catching that leaking breastmilk can put you right back in the game.
Check out the Milk Saver, the Milk Saver On-The Go and all the breastfeeding products at Fairhaven Health. Use promo code BADASS for 10% off your purchase!