I've seen a lot of products in this blogger job over the years. You badasses have grown this community to a pretty nice size and companies are eager to show you their stuff. I put the kibosh on much of it because it's useless, expensive or doesn't fill a real need.
I have noticed something pretty remarkable; the best products are created by the people who have experienced a gap firsthand. A lot of us can identify a gap, but a special few can envision a way to fill it. A couple of those people are Helen and Tobi.
Fairhaven Health has a long history of offering high-quality products for improving male and female fertility and offering products for nursing moms came as a natural outgrowth of that. In formulating products, Fairhaven Health brings together traditional Western (allopathic) medicine with clinically supported research in herbal and natural medicine. All of Fairhaven Health's dietary supplements are based on clinically established science, manufactured in GMP-certified facilities, and third-party tested for quality assurance.
In 2007, Helen Anderson gave birth to her second son, Henry. Working as a nurse in a busy emergency room, Helen seldom had time to pump, but still needed to store enough breast milk for her 12-hour shift. (Sound familiar to any of you out there? I bet it does because I hear from you all the time.) While she nursed her son, she noticed that tons of milk leaked and soaked her breast pads, only to be thrown away. She learned that there was nothing on the market that would collect her leaking milk. So Helen created the Milk-Saver, and the Milkies brand was born.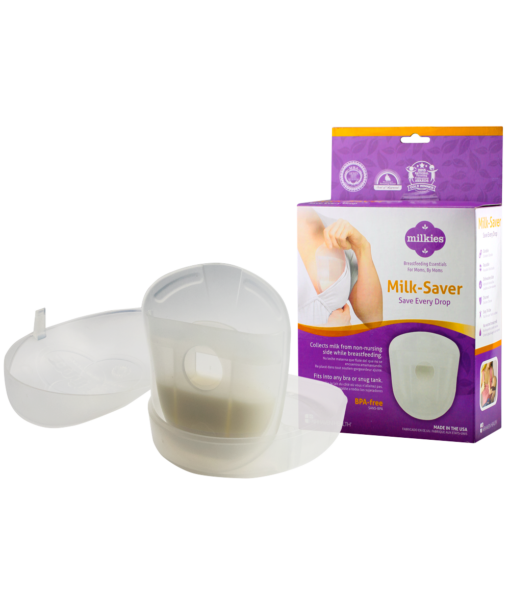 The Milk-Saver allows moms to effortlessly collect and save breast milk that leaks during the breastfeeding session. Just place it on the opposite breast and latch your baby. The Milk-Saver, that can hold over 2 ounces of breastmilk, will collect your leaking breastmilk and you can simply transfer it to a storage bag or bottle for later use. It's BPA, phthalate and silicone free.
In 2012, that same amazing Helen launched the Milkies Freeze. The Freeze addresses another issue that every badass breast pumper can relate to; crowded and unorganized freezers. "What's the date on this bag? Is this the oldest in here?" The Freeze is a "first in, first out" breastmilk storage system. Collect your breastmilk in any milk storage bag and place it on the metal quick-freeze tray at the top of the Freeze. Once the milk is frozen, slip the bag into the Freeze storage system through the slot at the top and the bag will fall to the bottom of the storage container. When you need to thaw a bag of breast milk to feed to your baby, pull a bag out from the bottom of the Freeze – that way you are sure to use the oldest milk first!
The Milk-Saver and the Freeze took the lactation world by storm. Breastfeeders, lactation consultants and retailers were hot on their trail. At the end of 2013, Milkies joined forces with Fairhaven Health.
In 2014 Fairhaven Health added Milk Trays to their growing line of breastfeeding products. Remember those amazing innovators that see a gap that I mentioned above? Let's meet the other one.
Tobi Porter is a firefighter, paramedic, mom, and Milk Trays inventor. She struggled to save enough breastmilk after returning to work. And like just about every breastfeeder that has returned to work, she worried that she wouldn't keep up with her baby. She noticed that milk could easily be wasted if too much milk was frozen in a storage bag. You have to defrost the entire bag, have a limited time to use it and it's not recommended to refreeze breastmilk. This is the perfect setup for having to throw milk away.
So Tobi created the Milk Trays, which are designed to freeze and store one ounce servings of breastmilk. These one ounce "Milk Sticks" fit into any bottle size, so families can customize each and every feeding. Need a 2 ounce bottle? Put 2 sticks in a bottle. Done. No waste. And no overfeeding, which is the leading cause of burning through your precious freezer stash. These are even useful beyond breastfeeding as they can be used when starting solid foods!
I'm going to pause so you can meditate on that awesomeness for a moment… My mind is still blown every time I think about it. How simple yet so effectively fills a need and fixes a problem that affects so many people. The best products are invented by people who have experienced the gap that needs to be filled.
Milk-Saver On-The-Go is the newest edition to the Milkies family. This takes the same concept of the Milk-Saver and turns it into a portable breastmilk collection breast shell that also protects your nipples from rubbing and chafing! It holds up to 1 ounce of milk which is more than any other similar product on the market. You can keep the milk in the Milk-Saver On-The-Go for 2 hours and transfer to milk storage bag or bottle for the fridge or freezer.
The Milkies line now features a range of breastfeeding essentials for moms, by moms, including Nursing Blend Vitamin, Nursing Postnatal Vitamin, Nipple Nurture Balm, Nursing Time Tea, Softies Contoured Nursing Pads, Breast Milk Storage Bags (with milk storage guidelines printed right on the bag!), and more. Check them out, they are a trusted brand of mine and I recommend them to you.
Find all of their products at the website, Facebook and Instagram.