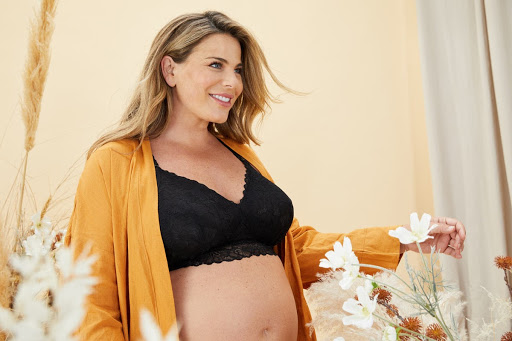 Different Types of Maternity and Nursing Bras

Bra shopping can be a minefield at the best of times. Everyone remembers their first bra experience, whether you were professionally fitted as a tween or just grabbed whatever size off the rack that "looked" right. No doubt you've had to do it countless times since then, but now that you're pregnant or breastfeeding, things are about to get a whole lot more complicated. What bra do I need for what stage? Can you still wear wires? What even is a flexi-wire and when can I wear them?
Here at Cake Maternity, we've got every kind of maternity and nursing bra you could possibly need. So regardless of your size, style, stage of pregnancy or postpartum, rest assured knowing we have a bra that's designed specifically for you.
Seamless Bras:
During the first trimester and the first 6 or so weeks postpartum, we strongly recommend mamas steer clear of any wires. That's because during these times your breasts are undergoing some of the most rapid changes they'll ever go through! If you're wearing a restrictive wired bra, it can encroach on your milk ducts and in a mild case; be uncomfortable, and worst case; lead you to develop mastitis.
The best bet for these transitional stages is a seamless bra. These styles are knitted to shape from super soft yarn, which means there's far less waste produced during the production process. So they're fit for mamas and Mother Nature.

Each size fits multiple cup and band combinations, so you can continue to wear them as your size fluctuates during the early weeks of breastfeeding. They also feature double layered cups and fabric support panels, so they provide just enough support without compressing your swollen, uncomfortable boobs. Plus the cups are heat moulded so goodbye mono-boob!
Sugar Candy
This one's for fuller busted mamas specifically. It features a patent pending platform sling (to rest your weary boobs on), and a side sling (to stop them from going east to west). There's also a unique integrated panel within the frame that performs like a wire, to lift and separate without the restriction.

Cotton Candy
This one is our all time best-selling style. It's loved by mamas worldwide for its super soft fabric, racerback design and easy peasy drop down cups.
Tutti Frutti
Although it's one of our newer styles, Tutti has quickly become a crowd favourite. Made with sustainable bamboo yarn, its memory foam cups are perfect for mamas who want a little more coverage, without compression.


Flexi-wire Bras:
Flexi-wire bras are perfect for mamas that want more structure and support. Made with wires that have been engineered to move and flex in four different directions, they also feature a wider "smile line" to prevent them from encroaching on your breast tissue.

These bad boys can be worn during the second and third trimesters, as well as after the first 6-8 weeks of breastfeeding, when your milk production has stabilised.
TimTams
One of our faves, TimTams features a super wide flexi-wire which offers great lift and shape without restriction. Its soft cotton lining is so comfortable that you can wear it all day long.
Truffles
Mamas deserve to feel sexy too, right?! Truffles is the lacy nursing bra that you didn't know you needed. Its lace overlay is super stretchy and comfy, so it accommodates your size fluctuations perfectly while keeping you feeling confident.
Croissant
Croissant is another one of our all time best-sellers. This flexi-wire number is the perfect nursing t-shirt bra. It provides a super smooth silhouette, without any bulky, uncomfortable foam.
Zest
This high impact sports bra gives you all the freedom you had pre-baby, with some super handy nursing clips! So whether you're out on a run with bub or you just love getting around in activewear, this is the one for you.
Pumping Bras:
Whether bub has trouble latching and you're exclusively pumping, you want to share the load with some of your loved ones, or you're going back to work, you're probably going to need a pumping bra.
Here at Cake, we have bras that are designed specifically to hold corded pumps, but our seamless range is also compatible with those cordless pumps that are all the rage these days!

Lotus
If you're using a more traditional pump, Lotus is the one for you! With strategically positioned holes to insert the pump's flanges in, you can pump completely hands-free! It also doubles as a fantastic medium-impact workout bra.
Wire-free Bras:
If you're in the middle of one of your transitional periods but want a little more coverage than a seamless bra, or you're just not a wire gal, our wire-free range is for you. Made with laces, padded cups or super fancy German engineered fabric (seriously!) there's something for every mama.
Tea
Despite being wireless, Tea is one of our most supportive bras. It covers a wide range of sizes, and its special German engineered fabric has cotton on the inside, which wicks moisture away from your bod.

Chantilly
Don't be fooled by the gorgeous lace, this feminine bralette fits up to a US G cup! Each size fits multiple cup sizes, so it'll take you right from the early stages of pregnancy through to your postpartum fluctuations.
Mousse
If you're after a t-shirt bra but can't bear the thought of any wires, this is the one for you. Made with super soft foam cups, it provides the perfect amount of coverage without adding any bulk.
At Cake, designing bras that are comfortable and functional for mamas but also sustainably and ethically manufactured is our top priority. Rest assured knowing each style has been rigorously tested and will last you your entire motherhood journey, and often into your next! This means less bras in landfill, and a healthier planet for you and your baby.
Katie is the proud mum of two beautiful girls and has been responsible for all the designs, style and fit at Cake Maternity for over a decade now.
Katie is a nursing bra specialist and a fit, pattern and grading technician. She is passionate about breastfeeding and the many benefits it offers to both mum, bub and the environment.
She is determined to make the breastfeeding journey a comfortable, supportive and beautiful one for all mums, understanding that it doesn't always come easy to everyone. That's why she has made it her mission to empower women as they mindfully navigate the world of motherhood and help make breastfeeding easier, through experience-driven innovation.