I don't remember exactly when we became a babywearing family. You know how people share photos of themselves on Facebook and add, "We're a breastfeeding, cloth diapering, babywearing, extended rear-facing, natural child-birthing family!" Yeah, I totally do that. Maybe it's obnoxious and I do sort of giggle while I'm doing it, but I'm not going to lie; I am proud of the things we have learned and the things we do differently than we used to based on our changing values since becoming parents. But I can't remember when "babywearing" became a part of my identity.
It was a gradual change. We didn't start off wrapped in hand-woven fabric. I bought a mainstream baby carrier and was excited to march around with my child dangling off my chest. I didn't think there was anything beneficial for baby and me. I just thought I was supposed to have this item and so I bought it. Once baby arrived I carried him in the carrier a few times, but I didn't really like it. I felt uncomfortable; like he didn't want to be that close to me. I decided to try a wrap, but ended up spun like a mummy trying to figure it out. It seemed too hard; like maybe I just wasn't that kind of mom.
Through struggles with breastfeeding and our growing identification as Attachment Parents I started to learn that there was a whole world of babywearing. I learned about the design of carriers and which ones were ergonomically correct. I learned that there were several styles of carriers and a million variations in between. I was dazzled by the patterns and the fabrics and various carries. I was swept away by the beauty of babies and toddlers snuggled to their parents by a product man-made with love. I was finding my comfort as a mom and this carried over to loving being close to my baby. I was falling in love with babywearing!
Today I have a shelf of every carrier you can name. Most are dusty and some are pulled out for fun on occasion. I have one that I use every single day. All day. The Lillebaby COMPLETE is rarely taken off of my husband's or my waist. With a 3-year-old to chase we need a carrier that is comfortable and easy to use. I love many carriers, but there is only one that fits my lifestyle as a busy city mom of 2 young kids who is on the go from dawn 'til dusk.
My husband never really came around to wearing our first son. He was intimidated by the wraps and the slings and in-betweens. While I was filling the shelves with carriers he preferred to just hold our son in his arms. To be honest I don't think my husband realizes how different things are for him with the Lillebaby COMPLETE. My husband wears our second son in the carrier as much as I do. Either to cook dinner, go for a walk, play "chase" in the hallway with the 3-year-old or make sure baby gets in a healthy nap.
With our first son I coaxed my husband to put him in the carrier and pose while cooking dinner. With our new baby my husband takes the carrier on and off without even thinking about it. I recently talked to my husband about working with various carrier companies on a particular project and he said, "And wear something other than Lillebaby?!" True story.
Lillebaby values function, style, safety and comfort. The company was built by people of various professions such as medical, chiropractic, athletic, fashion, safety experts and more. They set themselves apart from the rest by bringing all of this into one carrier. The carrier allows for the safe and comfortable seating of both babies and toddlers. You can choose from 6 carry positions. The carrier comes with an attached hood that is always handy when trying to help a baby to sleep or to get some privacy for a distracted or nursing baby.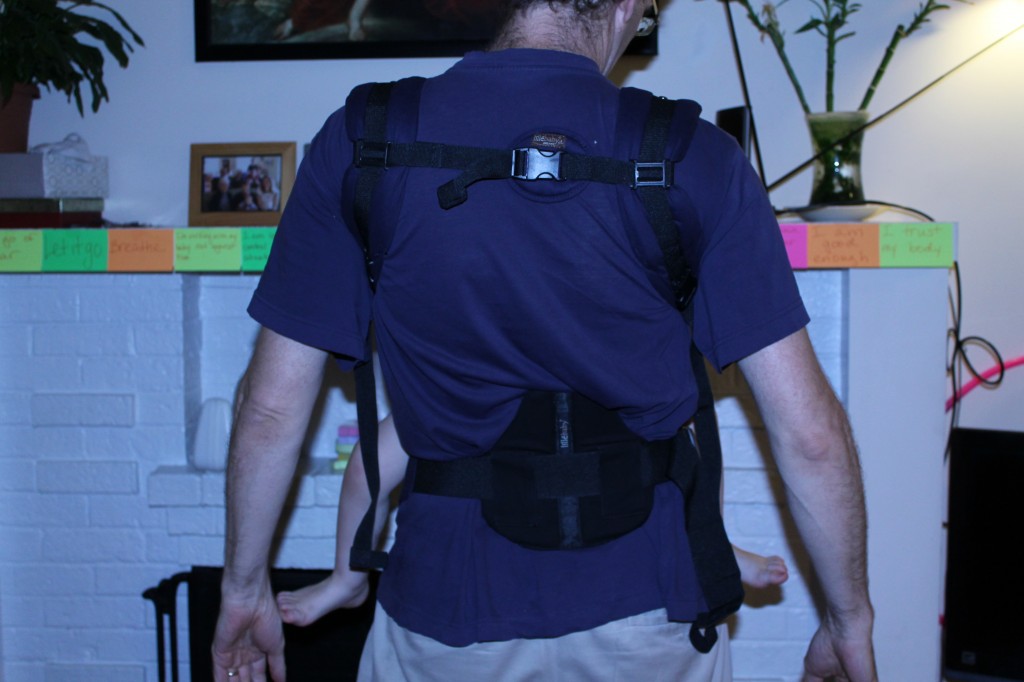 The Lillebaby COMPLETE goes above and beyond by offering lumbar support. This attachment keeps the strap from cutting into your waist and supports the most vulnerable part of your back. The carrier addresses the "babywearing gap" by offering an adjustable seat that grows with an infant all the way into toddlerhood. It offers a safe front carry position for babies 6 months and older when they can begin to benefit from this position. The connection straps are all padded for comfort. The waist and shoulder straps are stuffed with some sort of magical material that's more comfortable than anything I've ever felt on my shoulders before let alone in a baby carrier. The Lillebaby COMPLETE has an adjustable neck support that cradles baby's head or heightens the torso by several inches. It never occurred to me that my newborn and older toddler could use the same carrier, but with Lillebaby they can.
I was pretty stunned when I first put my baby in this carrier. After 3 years I really did not know that babywearing could be this comfortable. I felt like I was wearing some sort of down comforter in backpack style with a squishy new baby inside. I thought that wearing my 3-year-old was a thing of the past, but he fits snuggly inside this carrier and I am provided plenty of support to be able to wrap my arms around my growing boy. I will take every moment I can get. Some people ask, "why would you wear a toddler?" And I say, "If you can, why wouldn't you?"
Lillebaby offers several accessories as well including teething pads, a waist belt extension, cell phone pocket and stirrups. But let's face it, accessories are called accessories because you can take them or leave them. But one accessory you can't leave behind is the doll carrier. We are role models by nature. We are role modeling all day and night. We are creating a whole new generation of babywearers.
I highly recommend the Lillebaby COMPLETE. It is a part of my every moment as a mother. I feel that it has given me many gifts as a mother; convenience, style and a deeper bond with my boys. Check out their website, Youtube channel and you can find them on Facebook, Twitter, Pinterest and Instagram. We've got on Badass Company here folks.
Abby Theuring, MSW