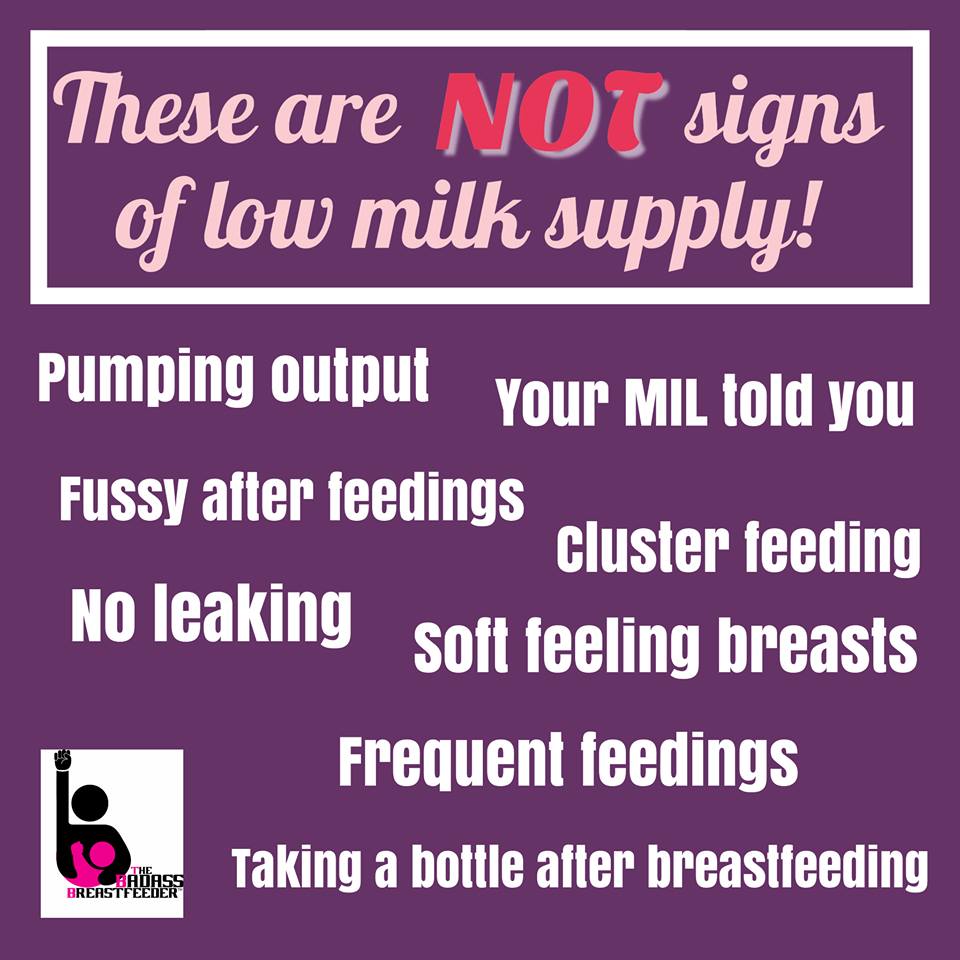 These are NOT signs of low milk supply:
1. Pumping output- Some people pump lakes full of milk but that's not normal. That's called oversupply. The reality is that everyone responds differently to a pump and there is NO way to gauge how much milk your body is making by how much milk your breast pump pulls out.
2. Frequent feedings- Every breast has a different storage capacity. If you store a lot of milk then your baby might feed less frequently. If you store less milk then your baby might feed more frequently. At the end of the day the babies got the same amount. If your baby feeds a lot. It's OK.
3. Fussy after feedings- Babies are fussy because they are babies. There are a million and one reasons your baby might be fussy.
4. No leaking- Not everyone leaks. This is not a reflection of how much milk is in your breasts.
5. Cluster feeding- Cluster feeding is normal. This is not a sign that you are not making enough. Empty breasts make milk faster, this is a way your baby increases your supply when needed. It works. Breastfeed on demand.
6. Soft feeling breasts- It's common for us to feel engorged when our milk comes in a few days after birth. We get used to this feeling and associate this with a healthy milk supply. But it's just your body trying to figure out how much milk to make based on what your baby needs. When your body figures out how much to make your breasts will feel less full. That's a good sign.
7. Taking a bottle after breastfeeding- Babies suck involuntarily when something is in their mouth. If you put a bottle in their mouth they will drink the milk or choke on it. We tend to give extra bottles after breastfeeding if our babies are fussy and when they drink the milk we think it's a result of hunger.
8. Your Mother-In-Law told you that you are not making enough milk. Other people really want to help, but they often don't have the training in lactation.
IF YOU FEEL YOU ARE TRULY STRUGGLING WITH LOW MILK SUPPLY BE SURE TO CONTACT A LACTATION CONSULTANT. THE ABOVE LIST IS NOT ENOUGH TO MAKE THE LOW MILK SUPPLY DIAGNOSIS ON YOUR OWN.
For more breastfeeding realness check out The Badass Breastfeeding Podcast.