Let's talk about having a good foundation!
Different bras styles have unique purposes. Typically, we want them to be somewhat pretty and always comfortable. If you are buying a bra for the function of bedroom playtime with your partner, then comfort might not be your number one focus since it's coming off fairly quick anyway. (Don't be shocked, we all know how babies get here!)
If you are a breastfeeding and pumping mama then comfort is of absolute importance; as well as functioning effortlessly to breastfeed and pump hands-free while working, eating or wrangling older children. I've talked to many of you moms out there, and I know you are doing some pretty funky stuff while pumping! And I have had many Target bras lose their shape before realizing that a quality nursing bra was a wise investment.
Bravado Designs is back with brand new nursing bras for Fall and an update to a classic style. I want to tell you all about them and offer my readers the chance to win some as well!

Bravado Designs Belle Underwire Nursing Bra in limited-edition Amethyst
First, the brand new bra called Belle is Bravado's beautiful underwire nursing bra and the third addition to the Petal-Soft™  Collection. Like previous bras in the collection (Buttercup and Ballet), Belle is crafted in the super soft Petal-Soft™ fabric and features an incredibly flexible and unique underwire designed to move with you with no binding or constriction. Bravado's design team worked hard to develop an underwire shape that would provide moms with the support of an underwire and the comfort of a supportive nursing bra. Belle features a foam cup design created to conform to all breast shapes (and every shape that your breast will take during your breastfeeding journey!) This bra design gives a breastfeeding mother the support she needs and the comfort she craves. The straps are convertible criss-cross for maximum functionality. This bra is perfect for the mom who loves her underwire bras. And the lingerie-like style is also a plus for feeling good and looking great. Belle is available in Bare, Black, and limited-edition Amethyst; Retail price is $52. You can check it out here.

Bravado Designs Original Nursing Bra in limited-edition Snow Leopard
To celebrate their 25th anniversary this month, Bravado has reintroduced a sleek, sexy and modern version of the Original Nursing Bra.  The Original Nursing Bra is the bra style that built the brand twenty-five years ago. Bravado's founders came up with the concept of a comfortable and stylish nursing bra at a kitchen table in 1992, and the style remains a must-have for every expectant and breastfeeding mom.
The Original Nursing Bra boasts a comfy, soft, cotton material, racerback for a sporty look, rounded v-neckline, plush band, and stretchy straps for even weight distribution. The Original Nursing Bra is available in White, Dove Heather, Black, and limited-edition Snow Leopard. Retail price $35. You can check it out here.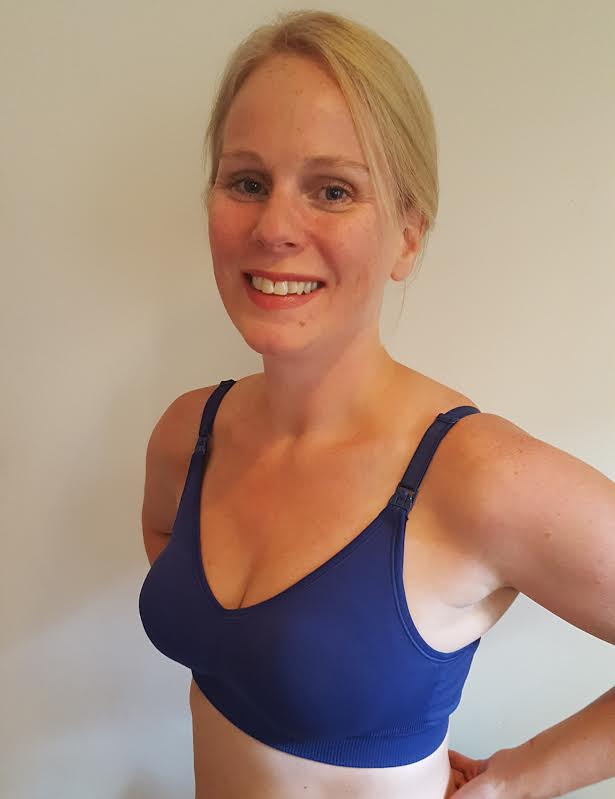 Body Silk Seamless Nursing Bra in Twilight
The Body Silk Seamless nursing bra is to die for. So soft and unbelievably comfortable! It's totally seamless which is especially important for pregnant and nursing moms since our breasts start to take on a life of their own almost immediately. It comes with removable foam inserts for moms like me whose nipples can be seen through just about anything. Did I mention how comfortable it is? The Body Silk Seamless Nursing Bra retails for $49. You can check it out here.
All Bravado products are Oeko-Tex certified; free from harmful substances and safe for babies and children. The bras feature easy open and close, one-handed Bravado 'B' nursing clips for convenience. The bras all come with complimentary bra extender and bra conversion kit. This kit allows you to turn it into a "regular" bra when you have finished your breastfeeding journey.
Since you absolutely need to have these bras now, we are going to leave you with a giveaway! To celebrate Bravado's 25th anniversary, you will have a chance to win all of the above bras; The Belle Underwire Nursing Bra ($52), The Original Nursing Bra ($35), and the Body Silk Seamless Nursing Bra ($49). A total value of $136. All you have to do to enter is comment on the Facebook post of this giveaway here!
You can also follow Bravado Designs on Facebook and Instagram.