***Ask an Expert is a blog feature hosted by a team of International Board Certified Lactation Consultants (IBCLCs). Once a month each IBCLC randomly chooses a question from The Badass Breastfeeder Facebook wall and provides their response on the blog.
By Nancy Mohrbacher, IBCLC, FILCA
Fan Question:
"I need help! My daughter is a week old tomorrow and I can't seem to get my milk flow under control. It just pours out and she chokes. What do I do to make it easier for her?"
During the early weeks, while your milk supply is adjusting to your baby's needs, your feeding position can make all the difference. If you sit straight up during feedings, your milk flows downhill into your baby's mouth, which makes coping with milk flow more difficult for her. Instead, use positions like those pictured here. Move your hips forward and lean back with baby's whole body resting on yours so your baby's head is higher than the breast. In these positions, gravity makes milk flow easier for her to manage. Many mothers also find these positions much more comfortable.
You can read more about these positions at this post.
Lying on your side to breastfeed can also help because baby can let overflow milk dribble out of her mouth rather than having to swallow fast to prevent choking. (Lay a towel under baby first!)
For more details, see Breastfeeding Solutions, my smartphone app for Android and iPhones.
Most important is never to hold your baby's head to your breast when she wants to pull off and catch her breath. Fingers crossed these tips help!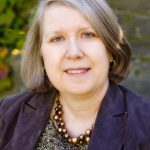 Nancy Mohrbacher, IBCLC, FILCA is a board-certified lactation consultant in the Chicago area who has been helping breastfeeding families since 1982. Her books for professionals are used worldwide. Her books for parents include Breastfeeding Made Simple: Seven Natural Laws for Nursing Mothers, which she co-authored with Kathleen Kendall-Tackett, and her tiny problem-solving guide, Breastfeeding Solutions  In 2013, Nancy released her Breastfeeding Solutions smartphone app (available for Android and iPhones) to give mothers a quick, go-everywhere source of breastfeeding help. Nancy speaks at events around the world.