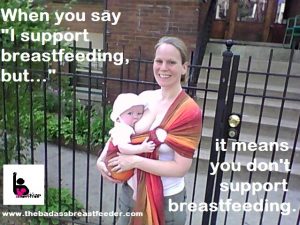 Breastfeeding and Babywearing
Today is dedicated to nursing in baby carriers. I have enlisted the help from babywearing expert Jillian from Paxbaby.com. In my opinion she is the number one go-to person for babywearing. I will cover each baby carrier and provide you with videos with step by step instructions on how to successfully nurse in that type of carrier. I often hear from women that they struggle to figure this out. I encourage you to watch these videos and practice in front of a mirror or with a friend. Then practice some more. Comfort and ease nursing in a carrier is just around the corner for you. You can do it. I know you can!
Wearing your baby is wonderful for forming attachment. It is great for maintaining milk supply. And it makes getting out and about so much easier. Nursing in a baby carrier can be one of the most discrete ways to breastfeed in public. People tend to think that baby carriers are expensive and not necessary. Few people put them on their baby shower registry, but wouldn't hesitate to ask for expensive cribs, strollers, Jumperoos, swings and so forth. These items can be over $100 apiece. These items all act as a way for us to put our baby down when the best place for our babies is close to us. If you forgo the above items and choose instead to buy a carrier you are actually saving money!
Main types of carriers:
Soft Structured Carriers or Buckle Carriers
Ring Slings
Mei Tais
Wraps
Breastfeeding in each of these carriers will be slightly different, but the philosophy is the same. Loosen, lower and latch. You can put your baby in the carrier as you normally would, then loosen the straps or rings, lower your baby to breast level and allow them to latch. Here are some videos of how to nurse in these carriers. I have provided 2 different videos of slightly different ways to nurse in the carriers so that you can choose what works best for you. No matter what way you choose keep safety in mind. Here is a link to important babywearing safety tips. http://babywearinginternational.org/pages/safety.php
I have put together a list of videos to demonstrate how you can breastfeed in the four major types of baby carriers.
How to nurse in a Soft Structured Carrier/Buckle Carrier:
Video 1 by Jillian at PAXbaby.com
Video 2 by Abby, The Badass Breastfeeder
Video 3 by Amanda, Admin at The Badass Breastfeeder
How to nurse in a Ring Sling:
Video 1 by Jillian at PAXbaby.com
Video 2 by Abby, The Badass Breastfeeder
Video 3 by Dare
How to nurse in a Mei Tai:
Video 1 by Jillian at PAXbaby.com
Video 2 by Danielle
How to nurse in a Wrap:
Video 1 by Jillian at PAXbaby.com
Video 2 by Karen
PAXbaby can be found at:
Facebook.com/PAXbaby
Shop  www.paxbaby.com
Youtube  PAXbabymom
TO START DAY 5 OF THIS COURSE CLICK HERE.